Eligibility for Children's Social Security Benefits in Indiana
Wondering if your child with a disability can qualify for social security benefits in Indiana?
If your child is under 18 and meets the Social Security Administration's (SSA) criteria for childhood disability, they may be eligible.
Additionally, their income and resources must fall within specified limits.
The requirements for children are distinct from those for adults, as children lack a work history.
Consequently, financial assistance for children with disabilities is provided through the Supplemental Security Income (SSI) program.
Get the help you need from an experienced disability attorney in order to get the best chance of getting your children's disability appeal approved:
We don't charge a fee unless you win!
Contact our legal team today to schedule your free consultation, and submit your child disability claim denial appeal as soon as possible:
(866) 950-5116
Or use our
contact
form.
Difference Between Children's SSI and Children's SSDI
Children's SSI:
Children's Supplemental Security Income (SSI) is a federal assistance program designed to provide financial support to disabled children with limited income and resources.
SSI is intended to help families with disabled children meet their basic needs, including food, shelter, and clothing.
Eligibility for Children's SSI is based on the child's disability and the family's income and resources. Children who meet the medical and financial criteria can receive monthly SSI payments.
Children's SSDI:
Social Security Disability Insurance (SSDI) is a program that provides benefits to individuals with disabilities who have worked and earned enough work credits to qualify.
While SSDI is primarily for adults who become disabled, there is a provision that allows adults to receive SSDI benefits if they became disabled before the age of 22 and one of their parents is receiving social security retirement or disability benefits.
This is known as Disabled Adult Child (DAC) benefits and is sometimes referred to as Children's SSDI.
We don't charge a fee unless you win!
Contact our legal team today to schedule your free consultation, and submit your disability claim denial appeal as soon as possible:
(866) 950-5116
Or use our
contact
form.
Key Considerations for Pursuing Supplemental Security Income for Your Disabled Child
Financial Qualification: The SSA evaluates the total income and resources accessible to the child and household family members. If these resources exceed the SSA's defined limits, the child's SSI application could be declined. In cases where the child is in a medical facility covered by health insurance, the SSI payment might be capped at $30 monthly.
Duration of Condition: To qualify, your child's condition must have persisted for at least 12 months or be anticipated to result in death. The condition should also cause "marked and severe functional limitations," implying significant restrictions on daily activities. This could manifest as being placed in an inappropriate grade level for their age, frequent hospitalizations, and more.
Supporting Your Child's Social Security Claim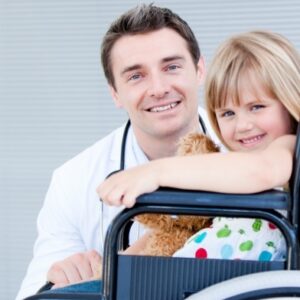 Building a strong case is pivotal. Obtain comprehensive medical and school records from reputable physicians and educational institutions.
While work records are absent for children, school records are vital evidence. These records can highlight challenges in school, the necessity for specialized education, and instances of grade retention.
Such documentation showcases "marked and severe" impairments to the SSA.
Representation for Children's Social Security Claims and Appeals
While some legal professionals may hesitate to handle children's social security claims, Indiana Attorney Scott Lewis, an experienced social security disability lawyer for children, is committed to these cases.
He believes that many cases can be successfully resolved at the Administrative Law Judge (ALJ) level.
If the need arises, he's also a seasoned children's disability claim appeal lawyer who can guide you through the appeals process.
Ready to Begin? Contact Scott D. Lewis for Guidance
Empower yourself with informed legal guidance as you pursue social security benefits and appeals for your child.
Contact our legal team today to schedule your free consultation: (866) 950-5116