Expert Social Security Disability Attorney Serving Clients in Evansville, IN
Do You Qualify?
To qualify for disability benefits (SSDI), you need to meet certain criteria set by the SSA. The most critical requirement is that you have a disability that prevents you from working.
Additionally, you need to have paid Social Security taxes and worked for a particular period to be eligible for benefits.
Our attorneys can evaluate your case and help you understand if you qualify for Social Security Disability.
Understanding The SSDI Program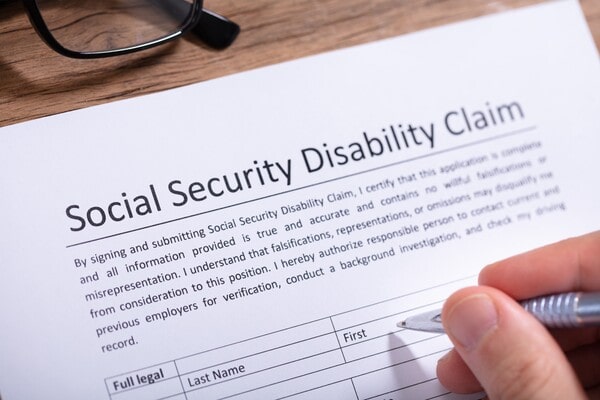 The Social Security Administration (SSA) manages the program, evaluating applications to determine eligibility.
Social Security Disability: Claim Denied?
Need Help With Application?
Don't get frustrated! At our law firm, it's our mission to professionally represent our disabled clients, as well as their families, and work hard to get you the benefits you deserve.
Free Consultation, Give Us a Call
or Email us.
It's a program intended to offer financial support to individuals who are unable to work due to a disability.
The program's benefits can provide critical financial assistance to individuals and their families who are struggling with the financial burden of a disability.
The Application Process for Social Security Disability Benefits
The application process can be challenging and time-consuming. It entails completing detailed forms, collecting medical records, and providing other documentation to support your claim.
Our attorneys have extensive experience with the application process and can assist you in ensuring that your application is accurate, complete, and submitted on time.
Common Reasons Why Claims Are Denied
Sadly, many claims are denied by the SSA. Our attorneys can help you identify the true reasons for your denial and develop an action plan for appealing the decision.
Some reasons for denial include the following:
Insufficient work credits: To qualify for Social Security Disability Insurance (SSDI), you must have earned a sufficient number of work credits based on your age and work history. If you haven't earned enough credits, you may not meet the eligibility criteria.
Lack of medical evidence: Medical evidence plays a crucial role in determining disability. If the SSA finds that the medical evidence provided does not sufficiently demonstrate a severe impairment or the inability to work, the claim may be denied. Inadequate medical documentation or incomplete medical records can also contribute to a denial.
Failure to meet the definition of disability: The SSA has specific criteria to determine disability. If your condition does not meet the SSA's definition of a disability, your claim may be rejected. To qualify, your impairment must be severe enough to prevent you from performing substantial gainful activity (SGA) for at least one year or be expected to result in death.
Engaging in substantial gainful activity (SGA): If you are earning above a certain threshold, known as the SGA limit, your claim may be denied. The SSA considers substantial gainful activity as the ability to earn a certain amount of income each month, which may vary from year to year.
Failure to follow prescribed treatment: If it is determined that you have not followed the prescribed treatment for your condition without a valid reason, your claim may be denied. The SSA expects claimants to comply with medical treatment plans that can reasonably be expected to restore their ability to work.
Duration of disability: To qualify for disability benefits, your impairment must be expected to last for at least one year or result in death. If the SSA believes your condition is not long-term or is not expected to last for the required duration, your claim may be denied.
Incomplete application or missed deadlines: Failing to complete the necessary paperwork accurately or missing important deadlines, such as filing an appeal, can lead to claim denial. It is crucial to provide all requested information and meet the specified deadlines.
Substantial income from other sources: If you have substantial income from sources other than employment, such as investment income or a spouse's income, it may affect your eligibility for disability benefits.
Appealing a Denied Social Security Disability Claim
If your claim is denied, you have the right to appeal the decision.
The appeals process can be lengthy and complicated, but our attorneys have the knowledge and expertise to assist you in navigating it successfully.
We can help you gather additional medical evidence, prepare for a hearing, and present a compelling case to the SSA.
Collaborating with a specialized attorney can be highly beneficial if you are seeking benefits. Our attorneys can provide valuable advice and guidance throughout the process, from the initial application to the final decision.
We can ensure that your application is complete and accurate, advocate for your rights, and represent you in appeals and hearings.
How Our Law Firm Can Help 
Our law firm is committed to assisting our clients in winning their SSDI claims.
We understand the challenges you face when dealing with a disability and are dedicated to providing compassionate and effective representation.
Our attorneys have a deep understanding of disability law and are passionate about helping our clients obtain the benefits they are entitled to.
Testimonials from Our Clients
Our clients are our top priority, and we are proud of the work we have done to assist them in obtaining their deserved benefits.
Check out our client testimonials further down the page to read feedback from some of our satisfied clients.
Contact Us for a Free Consultation
If you require assistance with a claim, please contact us for a free consultation with our experienced attorneys.
We can help you understand your options and develop a plan to move forward with your case.
Still Have Questions?
Check out our FAQs section for answers to common questions about eligibility, benefits, and the application process.
And we're happy to take your call on (930) 212-3132 to learn more about your case.